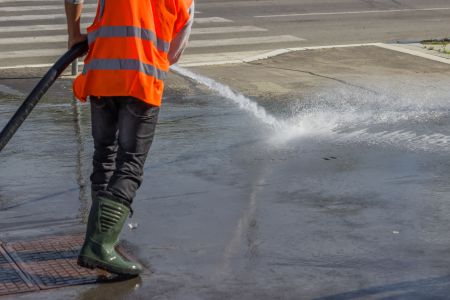 Pressure washing is a quick, cost-effective and no-worry method to make your business shine and stand out among your competition in Gastonia. Professional parking lot cleaning by the experts at Moore Power Washing checks a number of boxes for local business owners:
Image/Branding/Advertising
Maintenance/Cleaning
Safety/Liability
Advertising
Your parking lot, parking garage, and sidewalks are an extension of your storefront or building - and we all know that a dirty, dingy or stained storefront is a big turn-off for potential customers. Parking lot cleaning and concrete cleaning are some of the cheapest and most effective advertising you'll find anywhere. If you're not convinced that maintaining clean exteriors with professional pressure washing can positively build your business' brand and image, just imagine the potential opposite effect that a dirty and run-down storefront, parking lot, or garage can have on potential customers.
Maintenance
A maintenance strategy with regularly scheduled tasks is an essential part of any business plan. Upkeep of your business property is a no-brainer to protect your investment, and parking lot cleaning is especially necessary. Flat, high-traffic surfaces get dirtier quicker and show wear and tear that any passerby can notice, which can build a negative image of your business.
Safety
Business safety is a growing concern in the modern age, but the potential dangers in your business parking lot or garage are often overlooked. Potholes can snap ankles, or oil spills can cause slip-and-fall accidents that open up business owners to all sorts of liability problems. Professional parking lot cleaning will remove those oil spills and lessen liability dangers, and you'll be a hero for taking your clients' safety seriously.
There are many benefits that a professional parking lot cleaning job by Moore Power Washing offers Gastonia business owners, and we're always on time, reliable, and bargain-priced.
Exterior Cleaning Articles & Tips
Pressure washing wouldn't even exist without science, and science has evolved pressure washing into a more safe and efficient cleaning method for exterior surfaces. In fact, a number of scientific di […]
When you've realized that the danger of injury to property and self from DIY pressure washing just isn't worth the risk, and that saving a few bucks by hiring an amateur can end in property damage an […]