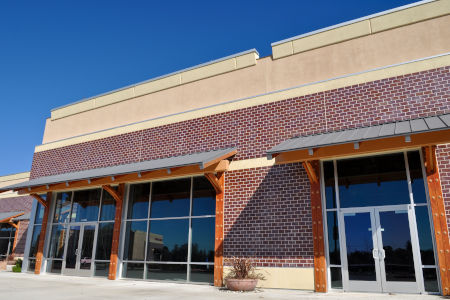 For Charlotte business owners, commercial and residential landlords, realtors, and warehouse managers, it makes sense to schedule regular maintenance and cleaning of their properties by an experienced pressure washing and building washing team.
Our skilled professionals will arrive on time, follow your orders to the letter, and efficiently clean your office building, storefront or outbuilding to your satisfaction. Our team-members are all fully insured for commercial cleaning, and the building washing results they produce will amaze with before-and-after contrasts that will catch eyes and attract customers.
We understand that your business property is a major investment, and you can depend on Moore Power Washing for an efficient, cost-effective and immaculate cleaning job that will bring new value to your property.
Able to revive and restore tall buildings in a single day; it's a bird, it's a plane; it's the leading building washing team in Charlotte: Moore Power Washing!
We are well-known in North Carolina for our building washing expertise involving not just masterful pressure washing in Charlotte, but also soft wash, no-pressure and low-pressure washing, and pretty much whatever it takes to get the best cleaning results for your commercial or rental property's exterior surfaces. From office buildings to metal warehouses, we've got the experience, equipment and determination to exceed all of your highest expectations. It has helped us earn the title of preferred vendor for all of your commercial and residential exterior cleaning needs.
We protect your investment top to bottom with roof cleaning services, as well as professional power washing for fleets of trucks, ATVs, golf carts and heavy machinery. No job is too big or small, estimates are free, we're fully insured and your satisfaction is 100% guaranteed.
Exterior Cleaning Articles & Tips
Pressure washing wouldn't even exist without science, and science has evolved pressure washing into a more safe and efficient cleaning method for exterior surfaces. In fact, a number of scientific di […]
When you've realized that the danger of injury to property and self from DIY pressure washing just isn't worth the risk, and that saving a few bucks by hiring an amateur can end in property damage an […]