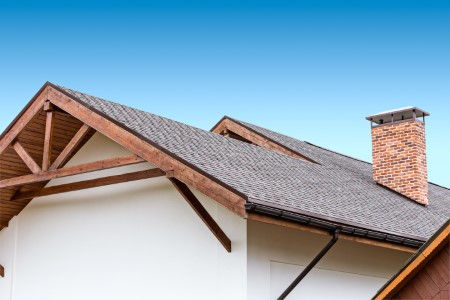 Every day, harmful bacteria, algae, and caustic organisms team-up with animal droppings, moss, mold, and fungi to attack your Belmont home's roof 24/7 - eating away at your shingles and damaging your roof. Fear not! You can trust the local pros at Moore Power Washing to use the proper cleaning agents for each specific material of your roof, and we'll scrub, scour, spray and employ a variety of proven roof cleaning techniques, including:
Low Pressure Washing
No Pressure Washing
Soft Washing
When we began pressure washing in Belmont, we saw the need for less invasive options for fragile materials like shingles and clay tiles, especially with the evolving soft washing technology effective in roof cleaning and house washing. Asphalt roofing and vinyl siding are often damaged by high PSI pressure washing or water when it is forced under seams or shingles, introducing moisture that could cause rot or harmful indoor mold.
We answered the call and invested in top-of-the-line commercial-grade equipment, intensely studied and trained on the best eco-friendly chemicals to battle the local organic threats, and refined our roof cleaning process to accommodate every type of roof.
Each and every Belmont property presents it's own unique roof cleaning problems and challenges, and Moore Power Washing is up to every challenge.
Why You Need Soft Washing For Your Roof
Our soft washing roof cleaning process uses specialized, low-pressure agricultural sprayers to apply environmentally friendly, biodegradable, water-based cleaning solutions. They are formulated specifically for your type of roof and designed to kill organic growth and deter its return. The Asphalt Roofing Manufacturers Association recommends low-pressure bleach or detergent assisted washing as the preferred method for cleaning asphalt roofs without damage to your shingles. Warranties for new roofs often require regularly scheduled roof cleaning as part of a maintenance plan to maintain the warranty, as well. We offer free estimates and our affordable, reliable, 100% satisfaction guaranteed service also comes with complimentary expert advice on how to extend the life of your roof - as well as any potential problems our technicians spot during service.
Exterior Cleaning Articles & Tips
Pressure washing wouldn't even exist without science, and science has evolved pressure washing into a more safe and efficient cleaning method for exterior surfaces. In fact, a number of scientific di […]
When you've realized that the danger of injury to property and self from DIY pressure washing just isn't worth the risk, and that saving a few bucks by hiring an amateur can end in property damage an […]