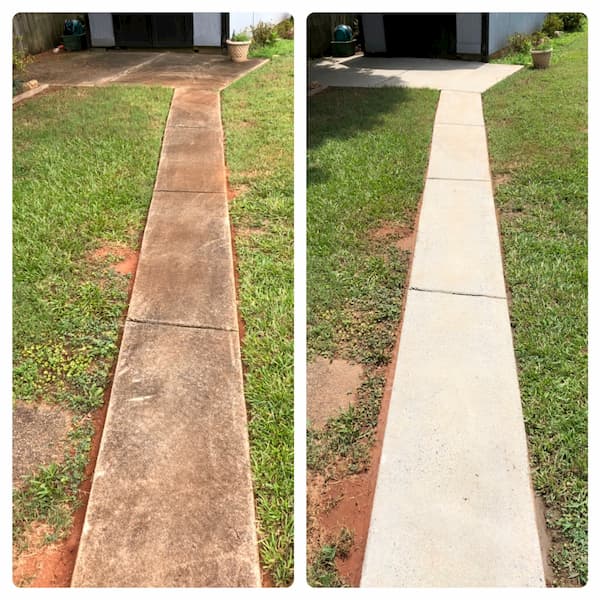 Flat concrete surfaces like sidewalks and walkways are like magnets for dirt and grime, and Moore Power Washing is the master of sidewalk cleaning in Charlotte, NC. Sidewalk cleaning is one of our specialties and one of our favorite pressure washing projects. We love it so much because of the amazingly fast transformation from frightfully filthy to pristinely perfect is so dramatic and pronounced.
Concrete cleaning is always challenging because of its extremely porous nature, but those pores are a natural part of the curing process of the concrete. Over time, rain carries road dirt, salt, and other contaminants into the concrete through those pores, which are then ground-in by traffic. Those tiny pores assist in preventing cracks and fissures caused by extreme heat and cold, but they also provide a mooring for the worst spills, stains, and organic growths.
The fact that sidewalks, walkways, pavers, and patios are often areas of high foot traffic greatly increases the dirtying effect, as contaminants are ground in and forced even deeper into those pores - making typical cleaning measures less effective. That's why you need the leaders of Charlotte pressure washing when your sidewalks are in dire need of restoration.
The experienced professionals at Moore Power Washing are the top-choice for sidewalk cleaning in the greater Charlotte area.
We've got the heavy-duty equipment necessary to power out deep-seated grime and gunk from those dirt-attracting concrete pores. Our pros are well versed in the use of biodegradable, eco-friendly cleaning solutions and chemicals to produce the most astounding sidewalk cleaning results you've ever witnessed.
If your walkways, pavers, pool decks, or sidewalks are in need of some deep cleaning and restoration, contact Moore Power Washing today! Let us show you the astonishing transformative power of pressure washing in the hands of trained, experienced professionals.
Exterior Cleaning Articles & Tips
Pressure washing wouldn't even exist without science, and science has evolved pressure washing into a more safe and efficient cleaning method for exterior surfaces. In fact, a number of scientific di […]
When you've realized that the danger of injury to property and self from DIY pressure washing just isn't worth the risk, and that saving a few bucks by hiring an amateur can end in property damage an […]