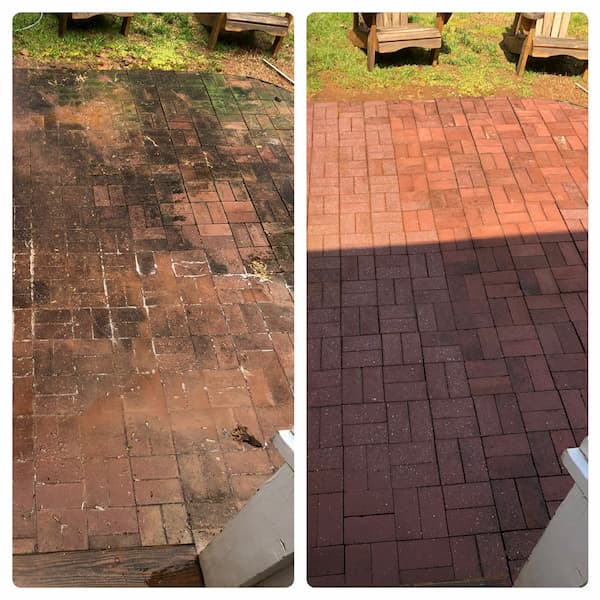 From circular drives to asphalt entryways to paver parking areas, Moore Power Washing is the first choice for driveway cleaning in Belmont, NC. Many people have done the drill of soaking up spilled oil from concrete driveways with sand, sawdust, or kitty litter, followed by lots of scrubbing, scrubbing, scrubbing. Driveway cleaning is a chore that rarely yields the results desired and often leads to frustration and anger.
But the good news is Moore Power Washing, the Belmont pressure washing leader, is fully prepared to bring our reliably impeccable driveway cleaning results to your North Carolina driveway. We love driveway cleaning because it is one of the best ways to showcase the superiority of a truly professional exterior cleaning job with before-and-after results that are often jaw-dropping.
Call Moore Power Washing today and let us show you the difference professional driveway cleaning can make in the curb appeal of your Belmont property.
We'll utilize eco-friendly chemical solutions like cleansers, bleaches and mineral acids, as well as a variety of pressurized spraying, scrubbing, and cleaning techniques to attain visual perfection. Whatever it takes, our team of concrete cleaning professionals will employ the proper combination of methods and cleaning solutions to restore your driveway to its former glory. You can trust the pressure washing professionals at Moore Power Washing to maximize your curb appeal, destroy organic contaminants, and remove oil and grease slip-and-fall dangers from your driveway.
Exterior Cleaning Articles & Tips
Pressure washing wouldn't even exist without science, and science has evolved pressure washing into a more safe and efficient cleaning method for exterior surfaces. In fact, a number of scientific di […]
When you've realized that the danger of injury to property and self from DIY pressure washing just isn't worth the risk, and that saving a few bucks by hiring an amateur can end in property damage an […]