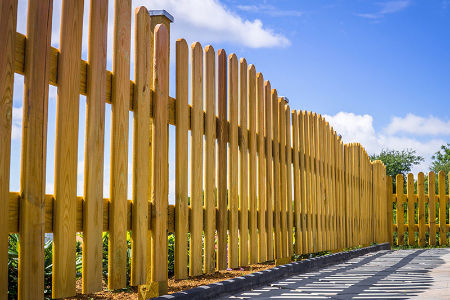 Mold, mildew, dirt, smoke, pollen, clay, fungi, moss, algae; the list of nature's potential villains ready and willing to deface your Gastonia outdoor surfaces is numerous and ever-evolving. Professional fence cleaning by the experienced specialists of the leading team in Gastonia pressure washing not only restores your fence to its original grandeur, but it will also protect your fence and walls. This defends against aggressive organic growth and contaminants that can cause rot and decay, and ultimately necessitate a fence replacement much sooner than necessary.
Fence Cleaning by Gastonia's pressure washing champ restores the beauty of your property borders and also protects them from damaging organic growth.
Fences are about defining your property lines and ensuring your privacy - they're not about fencing you in, they're about fencing things out. That makes it especially concerning to see algae, mold, and mildew creeping around your fence. It's like a microscopic attack that slowly builds in intensity until your border is compromised and your ideal backyard view is contaminated.
Deck cleaning and fence cleaning by professionals expertly wielding variable water pressure through advanced equipment, and employing biodegradable chemicals to kill and remove organic growth, restores your wooden or composite fencing and decking to its original countenance and deters future organic organisms from growing.
Front Yard Fences Need Love Too
With all this talk about backyards, let's not forget that fencing in your front yard. It may serve different purposes than backyard fencing, but both can benefit greatly in appearance and longevity by regularly scheduled fence cleaning by an experienced pressure washing professional.
In addition to security, front yard fences are often a statement of your personal style and can play an integral part in creating a vision of curb appeal perfection. The traditional white picket fence, the wrought iron gate, the river-stone wall, or the split wood rancher's style fence all send a message. They accent and compliment your home and property's total curb appeal, and instill a pride of ownership that'll give you a little lift every time you pull into your driveway. Moore Power Washing has the experts, equipment, and know-how to bring out the best in fences of all kinds, including:
Metal
Wood
Vinyl
Brick or Block
Chain Link or Picket
Exterior Cleaning Articles & Tips
Pressure washing wouldn't even exist without science, and science has evolved pressure washing into a more safe and efficient cleaning method for exterior surfaces. In fact, a number of scientific di […]
When you've realized that the danger of injury to property and self from DIY pressure washing just isn't worth the risk, and that saving a few bucks by hiring an amateur can end in property damage an […]