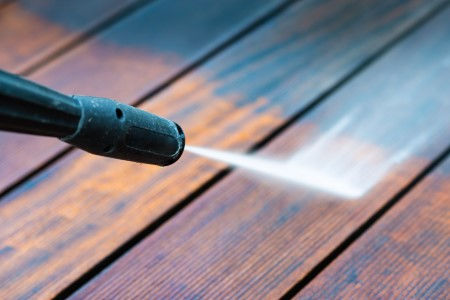 Like any interior room, your exterior room needs regular cleaning to look its best. You can trust that the pressure washing specialists at Moore Power Washing will take the greatest care in transforming your Belmont deck or patio into a beautiful backdrop for lots of future memories.
Professional deck cleaning is a quick, cost-effective way to give your deck a stunning face-lift - especially after our North Carolina weather conditions attack and fade your outdoor room. Unlike indoor rooms, heat, humidity, and other forces of nature are constantly assaulting your deck and patio. The best strategy to battle back nature's assault is to trust the leading experts on pressure washing in Belmont: Moore Power Washing.
Take your outdoor family gatherings, parties, and backyard barbeques up a notch with professional deck cleaning from Moore Power Washing - Belmont's leader for exterior cleaning services.
Our humid North Carolina climate enhances the growth of certain molds, mildew, and fungi that love wood and composite materials. Luckily, regular deck cleaning will banish decay and rot-causing fungus from wood decking without damaging your deck. A thorough deck cleaning not only freshens the look of your deck, but it also removes mold and moss buildup that pose dangerous potential for slips and falls.
The deck cleaning pros at Moore Power Washing will remove built-up algae and dirt from your wooden or composite decking, bringing your outdoor living spaces back to life. We only use low pressure and biodegradable chemicals to avoid damage to your deck.
Our pros are experienced experts at determining the best combination of eco-friendly chemical cleaners, hot or cold, low, high, or no PSI water power. Combined with good old fashioned elbow grease, attention-to-detail, and an obsessive determination to exceed the expectations of every customer, we'll execute a cleaning plan that will leave your deck renewed, rejuvenated, and looking like it was built yesterday.
If you're interested in transforming your entire outdoor living area, we can also employ equally safe and effective methods with our fence cleaning service to restore your wood, vinyl, metal, stone, or brick fence to the looks of its youth, making your entire backyard paradise look it's absolute best.
Exterior Cleaning Articles & Tips
Pressure washing wouldn't even exist without science, and science has evolved pressure washing into a more safe and efficient cleaning method for exterior surfaces. In fact, a number of scientific di […]
When you've realized that the danger of injury to property and self from DIY pressure washing just isn't worth the risk, and that saving a few bucks by hiring an amateur can end in property damage an […]