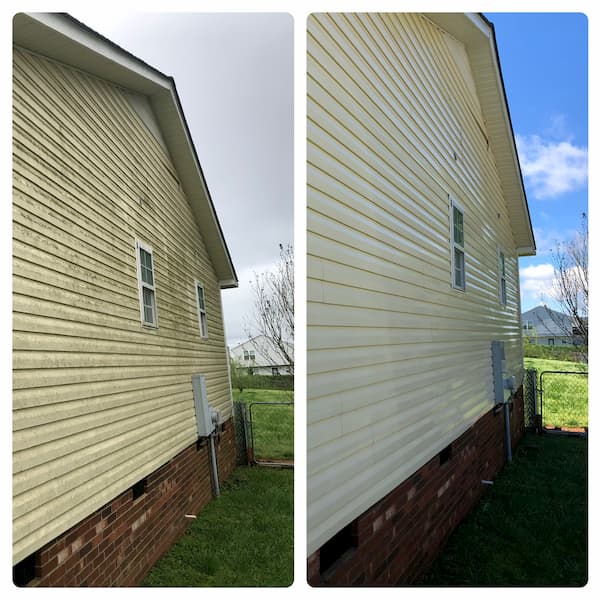 Every exterior surface on your property is an opportunity to increase your property value. If you're looking for an experienced, fully-insured house washing team to maximize your home's curb appeal, Moore Power Washing is the leader in pressure washing for Gastonia property owners.
When you hire the Moore Power Washing team you're getting:
Highly trained experts that will take the utmost care in the cleaning and restoration of your valuable home.
The newest and most high-tech commercial-grade equipment, tailor-made for each type of surface to produce a result that'll amaze you.
Friendly, courteous house washing pros devoted to exceeding your expectations and earning your trust.
A safe, shining exterior for your home or business that you can be proud of.
No job to big or small and no surface uncleanable - Moore Power Washing is the house washing to trust with your Gastonia home.
Our house washing process does an especially impressive job of killing bacteria, fungus, algae, mold, and mildew that love to attack your vinyl and wooden siding. Our soft wash solutions destroy these dangerous organisms and dissolve dirt and stains, which are then easily removed with low-pressure or no-pressure washing. Soft washing is great for roof cleaning, as well as vinyl and wooden siding because it is safe for damage-prone materials. Soft washing is also extremely effective for any surfaces where organisms have taken root and established a firm foothold.
High-velocity pressure washing is great for brick, tile, metal, and stone-sided structures, but when dealing with vinyl or wood siding, it has a couple of drawbacks. Highly-pressurized water can actually cut skin and can leave scars on wood in the same way. It can also rip vinyl siding right off of a structure. There's an additional danger too: pressurized water can penetrate between seams in vinyl siding and seep into insulation and dry-wall. This can create all kinds of problems like black mold and structural decay, which can lead to huge expenses. That's why is important to only trust a proven professional with the pressure washing of your Gastonia home or business, and soft washing is a key feature in distinguishing between pros and side-gig amateurs.
Exterior Cleaning Articles & Tips
Pressure washing wouldn't even exist without science, and science has evolved pressure washing into a more safe and efficient cleaning method for exterior surfaces. In fact, a number of scientific di […]
When you've realized that the danger of injury to property and self from DIY pressure washing just isn't worth the risk, and that saving a few bucks by hiring an amateur can end in property damage an […]