Finding the Perfect Pressure Washer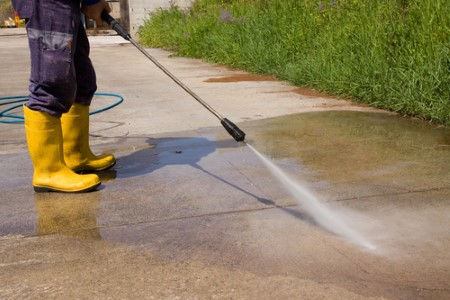 When you've realized that the danger of injury to property and self from DIY pressure washing just isn't worth the risk, and that saving a few bucks by hiring an amateur can end in property damage and lots more expenses, it's time to find a professional. Before you begin the process of hiring a pressure washing pro, here are a few tips on selecting the right power washing contractor for your needs.
Research
Make sure to do some research. Search the internet for "pressure washing near me" and you should get plenty of options. Look for information on their equipment and methods. Specialized heavy-duty equipment is a must for truly effective power washing and soft washing. Rented equipment is a dead giveaway that you've found amateurs working a side gig.
Referrals
Talk to your neighbors and fellow business owners about their power washing experiences. Pay special attention to the testimonial and feedback pages on company websites. Use apps like Thumbtack and Nextdoor Digest to read reviews on local experts and request recommendations from people in your area.
Estimates
Ask for an estimate to personally determine if the company is capable and the right fit for realizing your exterior vision. Moore Power Washing offers free estimates for all commercial and residential exterior cleaning projects.Be sure to make clear your expectations in detail and ask for a written estimate, including a procedures listing.
Observe
During your estimate meeting, ask if you can observe their pressure washing professional in action at an upcoming job. The best power washing companies are in high demand and it is not good time-management or cost-effective for them to conduct demonstrations. However, requesting some times and addresses where you can witness their work ethic in real-time and evaluate their results is a great way to judge their potential services.
Insure
Be sure to inquire if the company carries liability insurance. Professional pressure washing is a powerful force that can cut wood and cause other damage, so insurance is a necessity. Check if there is any kind of guarantee for your satisfaction. At Moore Power Washing, we're not happy with a completed job until you've signed off on it - your satisfaction is 100% guaranteed.
Finding the perfect pressure washer is simple: just call Moore Power Washing!
Exterior Cleaning Articles & Tips
Pressure washing wouldn't even exist without science, and science has evolved pressure washing into a more safe and efficient cleaning method for exterior surfaces. In fact, a number of scientific di […]
When you've realized that the danger of injury to property and self from DIY pressure washing just isn't worth the risk, and that saving a few bucks by hiring an amateur can end in property damage an […]