Cleaning Your Cover Conserves Cash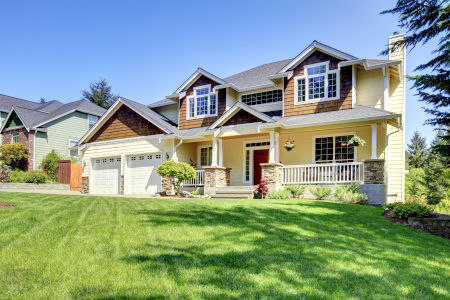 Regular pressure washing and roof cleaning are the keys to any roof maintenance plan and will save you lots of cash and headaches in the future. Electrical, plumbing, HVAC, and roofing problems are the most potentially expensive problems a home or business owner has to deal with. Replacing a roof can be a nightmare of estimators, contractors, builders and insurance companies, requiring lots of time and lots of cash.
At least replacing a roof is an expense that should only be required every 25 years or so: that's the normal lifespan of a newly installed roof, barring natural disasters. However, weather conditions - especially in more humid localities - can breed damaging natural organisms that attach to your roof, building-up and causing rot that can lessen the life of your roof.
We don't think much about the roofs over our heads until the weather turns bad or the leaks start puddling inside the house. Taking the long-sighted view to develop and implement a roof maintenance plan, including regular roof washing, can help you get the most out of a major investment.
Your roof won't last forever but it'll last longer with periodic roof cleaning by Moore Power Washing.
Regular Roof Cleaning Protects Your Investment
Did you know that new roof warranties often require you to have a roof maintenance plan, including regularly scheduled professional roof cleaning, and that failing to do so can void your roof's warranty?
Our team of soft washing experts uses the proper cleansing agents and PSI for each specific material of your roof for maximum effect - without affecting your fragile shingles and tiles. Contact the roof cleaning and soft washing experts at Moore Power Washing today to get more out of your roof, avoiding costly replacement for as long as possible.
Exterior Cleaning Articles & Tips
Pressure washing wouldn't even exist without science, and science has evolved pressure washing into a more safe and efficient cleaning method for exterior surfaces. In fact, a number of scientific di […]
When you've realized that the danger of injury to property and self from DIY pressure washing just isn't worth the risk, and that saving a few bucks by hiring an amateur can end in property damage an […]
Contact Us
Regular roof cleaning can save you money in the long run because cleaning your cover conserves cash, so please call 704-616-2787, or complete our online request form.